Systemex and ArcelorMittal, transforming tomorrow together
ArcelorMittal is the world's leading steel and mining company. Guided by the philosophy to produce safe, sustainable steel, it is the leading supplier of quality steel products in all major markets including automotive, construction, household appliances and packaging.

Systemex has been ArcelorMittal's partner in its Canadian mining operations since 2010. Systemex has led and executed over 10 asset management projects, helping ArcelorMittal reduce its costs, improve its productivity and reduce the risks associated with operating and maintaining industrial equipment in remote locations. In July 2015, Systemex was recognized by ArcelorMittal for its contribution to the success of the Line 7 Expansion Project, a major capital project in its Canadian mining infrastructure.
ArcelorMittal transports iron ore concentrate, by rail, from Mont-Wright to Port-Cartier. With the help of Systemex, its railway system, over 260 miles long, with 20 bridges and 5 tunnels, has become a benchmark for reliability and innovation. The company's rolling stock includes 22 locomotives and 950 cars, railway maintenance and inspection vehicles. All are maintained at the rail shops in Port-Cartier.
As it pertains to railway equipment, Systemex completed extensive work at the Port-Cartier facilities, helping develop the maintenance plans for the diesel workshop, the car shop and the wheel truing workshop. Systemex also helped develop the maintenance strategy and plans for the locomotives, side dump cars and the rotary dumping equipment. All these projects resulted in reduced maintenance costs and improved equipment availability. A risk assessment for the signals and the powerlines was also completed and implemented in order to minimize downtime when failure occurs in remote areas.

Since 2009, Systemex has been performing extensive strategic and tactical asset management projects with ArcelorMittal's mining operations. This partnership has yielded tremendous results and the relationship has been beneficial to both parties. The table above summarizes the results of the projects that were executed by Systemex on ArcelorMittal's Railway System.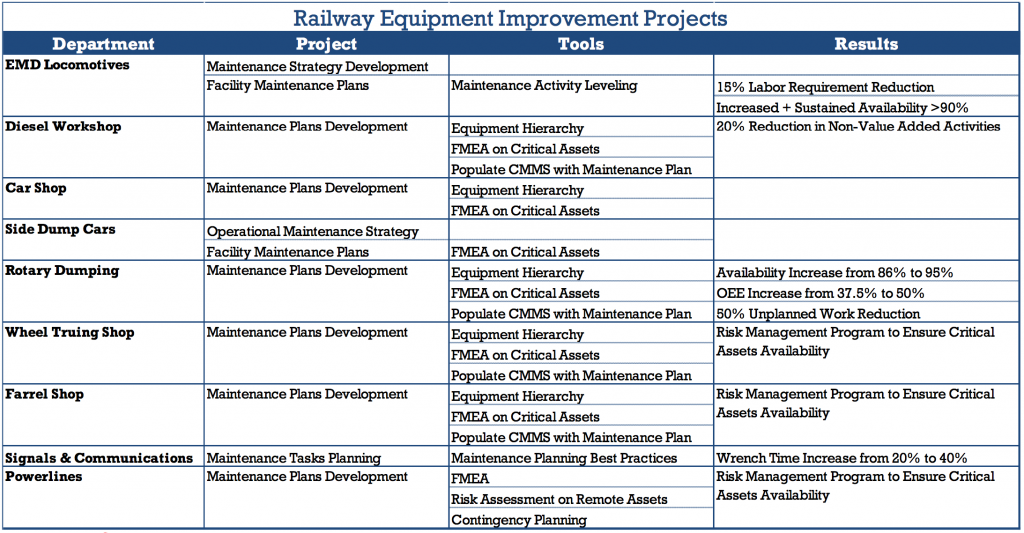 To this day, the partnership continues to produce excellent results and Systemex is extremely proud to have played a part in ArcelorMittal's success.
Contactez Systemex Industries Conseils pour en savoir plus
Vous êtes à un clic de services intégrés de consultation en gestion de la performance des actifs. Envoyez-nous un message, et l'un de nos représentants communiquera avec vous.
Consultez nos coordonnées